Article courtesy of McPherson Media Group – www.mmg.com.au
Noted Ayrshire breeder Roly Canobie has been acknowledged for his life-time contribution to the breed on the eve of his 100th birthday.
Mr Canobie, who will reach his century in March, was not able to attend the presentation in the main arena at International Dairy Week, but watched the broadcast over the internet on a computer.
He had an astonishing run of success in showing Ayrshire cattle at Royal Melbourne Show, judged at many Australian Royal shows as well as overseas, and was responsible for breeding cattle that became the foundation for many Australian studs.
Mr Canobie can remember milking five cows by hand before breakfast and going to school on the farm where he grew up.
He also recalls an inquisitive boy called Brian Leslie turning up at the Melbourne show asking lots of questions about the cattle.
Last week Mr Leslie, who is now Australia's foremost dairy auctioneer, introduced the special presentation for Mr Canobie during the Ayrshire judging.
''I will never forget the line of cows tied along the fence in the Ayrshire pavilion, just about all by one bull, Blackwood Park Drummer 2,'' he said.
''To this minute they are the best Ayrshire cows I have ever seen. They were champion and reserve and just about every other place.''
Mr Leslie named each champion cow and impressed Mr Canobie who remarked from his room at Banksia Lodge: ''He's not even using notes!''
It was doubly impressive because Mr Canobie is sharp enough to remember the cows and the years, too.
''They bred champions all over the country and exported cattle to New Zealand,'' Mr Leslie recalled.
''Through the 1970s they had an incredible run, with champion and reserve champion cow almost every year.'
''The influence Roly Canobie has had on the Ayrshire breed is unmatched and his family is still showing here today.''
Son Max Canobie was presented with a trophy and a photo of his dad with one of his champion cows from the 1970s.
Australian Ayrshires president Mike Hentschke presented Roly's award to Max.
''The award was recognition from Australian Ayrshires presented to Roly because he is turning 100 in March and International Dairy Week is a time when a large number of Ayrshire breeders are in one place and we can publicly recognise him,'' Mr Hentschke said.
''The very first Ayrshire that we (Mr Hentschke and his wife) brought was from Roland Park's Ayrshires.
''We founded our stud on Roly's Ayrshires.''
Mr Canobie had already been made a life member of Australian Ayrshires and a life member of the Victorian branch.
''It would be fair to say he is one of the most influential breeders of Ayrshires in Australia over an extended period of time and the impact of his breeding and stud lines is spread right across the Ayrshire genetics in Australia,'' Mr Hentschke said.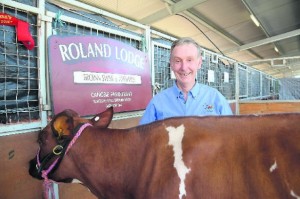 Max Canobie acccepted the award on behalf of his father Roly.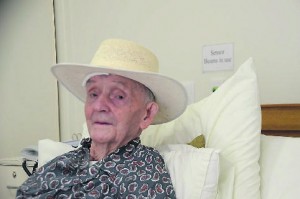 Roly Canobie was able to watch the presentation on a computer at Banksia Lodge, Kialla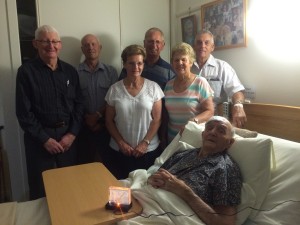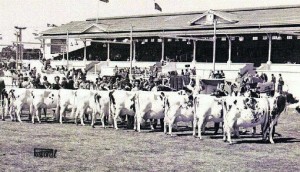 The Roland Park show team at Royal Melbourne in 1972.