By LAURA GRIFFIN, The Australian Dairy Farmer, 21/01/2015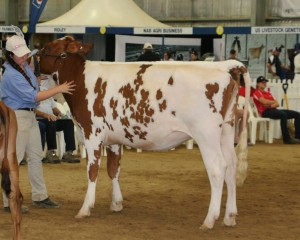 The International Dairy Week elite Ayrshire sale set a new Australian record for the highest average achieved, according to Dairy Livestock Services auctioneer Brian Leslie.
Breeders from across Victoria, interstate and even overseas (New Zealand) provided spirited competition for the 16 female animals (heifers and cows). The international judge Duncan Hunter, England, demonstrated his high opinion of the Australian Ayrshires shown by securing the only embryo package offered – paying $760 each for four embryos by sire De La Plaine Prime and dam Boldview Parndara.
The sale topped at $9000 for Lot 2, Paschendale Cinder Blossom-ET (pictured above) that was knocked down to Araluen Park, Shady Creek and the average over the 16 live lots was $3530.