Australian Ayrshire Journal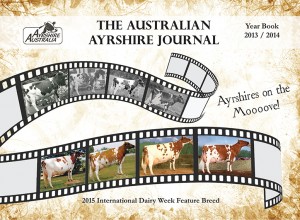 2011 saw the refurbishment of the Australian Ayrshire Journal after laying dormant for quite some time. New South Wales breeders, Michael and Janine Eagles (Ghinni Creek Ayrshires) took on the monstrous job of collating, printing and distributing the journal.
Now with the combined help of South Australian breeder and qualified Graphic Designer, Caitlin Liebich (Boldview Farms & Cher-Bar Ayrshires), the journal continues to grow and improve every single year, with advertisements and content being sent in from across the globe.

Year: 2014

Copies Printed : 170

Countries Distributed to:
Australia, New Zealand, USA, Canada, England, South Africa
Journal Submissions / Deadlines
If you have any news, results, or other information of interest that you think would be suitable to be published in the Australian Ayrshire Journal, please contact:
Michael & Janine Eagles
email: mickeagles@bigpond.com
Deadline for submissions to the Journal:
Advertising Prices
(2014 prices - may be subjected to change):
Inside Front Cover - $250.00
Inside Back Cover - $ 250.00
Back Cover - $300.00
Double Page - $400.00
Full Page - $200.00